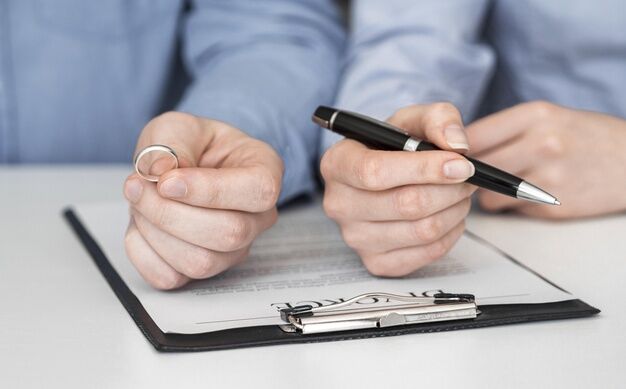 Separation Agreement:
A blog that discusses the benefits of drawing up a separation agreement
Marital separation simply means that you and your spouse are still legally married but are currently living physically apart from each other. Divorce, on the other hand, means that you are not married anymore to your now former spouse. This comes after getting legally separated or filing for divorce.
Nearly 40% of marriages in Canada finished with a divorce. Whether you are reading this article because you want to file for a getting-a-divorce-related thing or because your spouse wants to end your marriage, knowing what will happen to your assets during marital separation can help you understand how you should proceed.
What Is A Separation Agreement?
A separation agreement is a written contract that you and your spouse create stating the conditions under which you will live and co-parent during your separation. It can also include any terms that were agreed upon in starting your marital relationship.
What Does A Separation Agreement Cover?
Separation agreements are an important part of any separation. It is your opportunity to plan for what you will do during the time of separation, and can also include details about how you and your spouse will go forward into divorce.
While there is no time frame for creating an agreement, it is recommended that you do so as quickly as possible. This ensures that all of your needs can be defined, along with any of those of your spouse, before things become too stressful. Listed below are some of the different elements a separation agreement may cover:
Spousal support;
Child support;
Property division;
Medical expenses and health care coverage;
Life insurance;
Custody and parenting arrangements for children of the marriage;
Health insurance for children of the marriage (if applicable);
Future education costs for children of the marriage (if applicable);
Any domestic partnership agreements you entered into during your relationship;
Potential spousal-support provisions, if they were not included in a prior agreement or separation certificate;
Any capital property (such as stocks and bonds).
How Do I File For A Legal Separation?
A legal separation is a court-ordered arrangement whereby a married couple lives apart, leading separate lives. Living separately under the same roof is also known as "living apart together" or LAT.
A legal separation is a popular alternative to a divorce when the parties are unsure of the state of their marriage but want to establish financial boundaries and responsibilities, such as separation of assets, custody of dependents, and child support. A legal separation may be just what you need if you have incompatibility problems that affect your life together but you do not want to separate from each other permanently.
You can get legal separation by agreement with your spouse and can actually find separation agreement templates online. You can also ask the court to divide your marital property, child custody and visitation, spousal support (money), and orders for protection. Some couples are also able to divide their assets, debts, and responsibilities on their own, or with the help of a mediator.
What Are The Benefits Of Having A Separation Agreement?
Separation agreements are not mandatory, but if you have minor children and want to settle any issues on how you will support your family after a divorce in the future or want to confirm arrangements for the children in the event of a separation, then it is worth drawing up an agreement.
If you're thinking of splitting from your partner, putting something in writing reinforces the seriousness of the decision you have taken, helping to set your emotions aside, so that both parties can be completely clear about their rights and responsibilities in a measured way.